Every part of my biography is a song of thanksgiving: to those who gave me birth and took care of me, to those who look after me, to those who listened to me, to those who trained me, to those who then helped me to break down the rigid and blind schemes of education, to those who taught me freedom, to those who held out their hand to me in the countless moments of crisis, to those who guided me in esoteric practices, ceremonies and initiations, to those who believed that I could do it when I had lost all hope, those who prayed, sang, danced and meditated with me, those who made love to me, those who climbed with me on the snowy mountains, who swam with me in the abyss, who looked into my eyes and understood my madness, who gave me tools and inner resources to withstand the storms of life, who lived in silence next to me teaching me patience, to those who held my hand even if I was sad or full of anger, to my students, to all my wonderful students, young and old, who taught me to overcome the pre-established roles, rules and study programs, to experience the moment of mutual exchange with presence, gratitude and love.
Every moment of my life has made me what I am today. Thank you!
THANKS, THANKS, THANKS TO LIFE, THAT HAS GIVEN ME SO MUCH.
Giulia (as signature)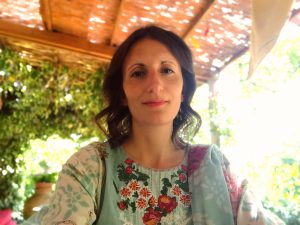 STARTING WITH PHYSICS, MUSIC AND THEATER
Giulia studied Theoretical Physics at the University of Milan, becoming
passionate about the new frontiers of Quantum Mechanics, after having
studied Dynamical Systems, Chaos Theories and Optics.
She also studied Opera Singing, later specializing in ancient music, renaissance
and baroque singing, following the School in Ornamentation, Ancient and
Baroque Practices of the harpsichordists Emilia Fadini and Luca Moser.
She trained in Choir and Vocal Conducting with the international master and
conductor Lorenzo Donati, participating in projects of madrigals, medieval and
renaissance music, baroque opera and dance.
She attended the Acting School "Il Faro Teatrale" Academy in Milan, by the
director and actor Massimo Sabet.

DIVING IN THE SUBLTE WORLD OF VOICE: HARMONIC CHANT AND
PSYCHOPHONY
Giulia continued her experience in the subtle world of vibration and voice by studying and practicing Harmonic Singing with the music-therapist Lorenzo Pierobon and with the Russian bass Igor Reznikoff, an expert in harmonic singing in French cathedrals, and followed the four-year cycle of Psychophony seminars, a therapy of self-experimentation and healing through singing and voice, conceived by the French singer and scholar Marie-Louise Aucher and proposed in Italy today by Dr. Elisa Benassi, obstetrician and music-therapist.
After having experienced on herself the potential of healing through singing and vibration, for many years she has been working as a music-therapist developing her own method, whose aim is to free the body from energy blocks and pain, and to re-harmonize it, allowing the sound vibration to reconnect with the pure original joy that lives within us, and celebrate life every day in gratitude. Our voice guides towards deep internal listening, creating resonances in specific areas of the body and deepening the experience of the breath, through vocalization and singing.
Giulia sings in concerts and artistic performances of chamber music (ancient music, madrigals, lieder), preferring the form of the guided and meditative lesson-concert, often accompanied by dance or in conjunction with poetic and figurative art.
MEETING YOGA: THE WAY TO LIBERATION
Giulia has been practicing and teaching yoga for more than ten years, dedicating herself especially to Mantra and Nada Yoga, through the teachings of master Krishna Das. She began practicing yoga with the Kyrghiz teacher Jamilya Jeenbaeva (Ashatanga Yoga), and continued with the teachers Cora Steinsleger (Fluid Yoga), Gabriella Giubilaro (Iyengar Yoga), Antonio Nuzzo, Wanda Vanni, Willy van Lisebeth (Hatha Yoga, traditional school of master Shivananda). She studied Oriental Philosophies with Professor Gianni Pellegrini.
ANTHROPOLOGY, PHILOSOPHY OF FREEDOM
In one of her many projects, in 2014-2015 Giulia participated to the creation of a Sustainable and Regenerative Community on the hills near Florence, whose heart was a school with outdoor education, permaculture, martial arts, theater, workshops of metalworking and sculpture, a project that led her to train as a Waldorf teacher for High Schools at the Lehrerseminar für Waldorfpädagogik in Kassel, Germany.
HESYCHASM, HEART MEDITATION & DEATH AS A LIFE FRIEND
In Florence, Giulia followed the Meditation Course (Hesychasm, Meditation of the Heart) with Father Guidalberto Bormolini, monk and anthropologist, meeting the ascetic practices of the fathers of the Christian Church and carrying out an adventurous pilgrimage to Jerusalem and other sacred places of ancient Christianity. She then attended the Master "THANATOLOGY AND SPIRITUAL ACCOMPANYING IN ILLNESS AND DYING", organized by Father Guidalberto Bormolini.
ASTROLOGY, THE ART OF CONNECTING TO THE COSMOS
Starting from 2017, Giulia studied Astrology for two years at the School of master Maestro Marco Pesatori in Milan, which she continues to follow through specialized seminars.
VIPASSANA MEDITATION
With the therapist Anand Deva, a free spiritual seeker, Giulia met the practices of using essential oils and Aromatherapy, Osho Meditations, and practiced silence and she attented Vipassana meditation retreats.
KYRGYZSTAN, NEPAL AND PAKISTAN – INNERPATHWAYS TOWARD SUSTAINABILITY
Now Giulia knows her true house is an inner house-heart, and outside the house can be the whole world. Following her nomadic nature, in addition to her base in Sicily in Italy, she travels to Kyrgyzstan, where she collaborates with the shepard Shergazy Mairambekov, Nepal, where she collaborates with the musicians and sherpa Jay and Sudarson, and her huge family in Pakistan (Punjab), the family of her husband Rizwan Ali. In Pakistan she collaborates with the yoga teacher and life coach Shahnaz Minellah, at her meditation center "A Soul Sancturay", near Islamabad.
Last year, she has participated in the international projects "Innserpathways towards Sustainability" and "Co-Operate and Co-Create", for the development of sustainable and regenerative communities.
She actively participates in models of Gift Economy and Exchange, to support and realize the dreams of every person in the world.